Provide First Responders with your Lifesaving Data
ACCU911 is an added layer of assurance
Utilizing patented software and Bluetooth location technology ACCU911 provides real-time location data to first responders in the case of a 911 emergency where one may be in need of police, fire or ambulance services to be located precisely with all of your medical information supplied before they arrive in your time of need.
ACCU911 Emergency Location App
Most 9-1-1 call centers nationwide are not able to accurately locate mobile callers. If a caller cannot tell dispatch where they are, they could risk serious consequences. Get found in the fasted time possible with the ACCU911 app. This ground breaking technology works in even the most challenging environments to get your call routed to the nearest 9-1-1 call center.
ACCU911 Emergency Location Beacon
By adding an ACCU911 beacon to locations where you spend most of your time, including home, work, school, church, etc., you are adding extra assurance you will be located by first responders in a time of need. Most homes only need one beacon. Contact us to learn how we can help you design a system for commercial applications to create an ACCU911 SAFE ZONE!
BUY IT NOW!
ACCU911 Beacon

Features That Can Save Lives
Improving 9-1-1 Response One Rescue at a Time!
Pinpoint Accuracy
ACCU911 Emergency Location services can help first responders determine where you are indoors, including which floor you are located.
Indoor Accuracy
Sed rhoncus velit mauris, blandit aliquet eros interdum quis. Nullam atest ut augue volutpat varius sadips ipsums et dolores.
Control Your Data
Choose your personal data that you would like First Responders to be aware of if you have the unfortunate event of needing to place the call
You Choose What to Share
If you have a medical condition, take specific medication or have a severe allergy, letting First Responders know up front to ensure best care possible is a huge benefit.
Extra Added Assurance
Knowing that you can add extra awareness to help speed up First Responders response time is extremely valuable.
Protect What Matters Most
Not many things in life are as valuable as the gift of good health and added protection during the time of need. Take advantage of today's technology to be assured you and your loved ones are safe.
Medical in Advance
Ensure your medical wellbeing is optimized with an additional layer of informed protection. Notify medical First Responders of all concerns.
Amazing App Features
Inform paramedics of your medical condition and what medications you are taking and could be allergic to with ACCU911 app for you and your loved ones.
Quick Police Response
Utilize the notes section of ACCU911 app to inform Police of any special situations you think they should be aware of upon arrival.
Ensure Safety for you and Your Loved Ones
If you have any information you could help police responders be aware of upon arrival to your home or work, it could mean the difference of life and death.
Informed Fire Fighters
Fire danger has never been at a higher risk in this day and age. Ensure First Responders are informed with vital details they need to know
Protect your health and property
Got special instructions to get to your house? Have a security gate that could prohibit quick access to your house in the event of a fire or natural disaster? ACCU911 could be the informative tool that could make the difference in an emergency.
Doing our part to help save lives
Easy to Install and Configure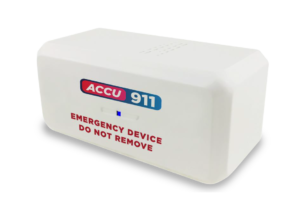 Store Your Personal Info – Securely
Store your personal data on the ACCU911 App and make it ready to supply 9-1-1 call centers only when you make the call for help. The following information is made available as an option.
Your Name

Address, including what floor you are located

Your physical description

You can also list any other concerns you may want First Responders to be aware of at the time of call:

– How many people live in your house
– Do you have pets?
– Family with special needs
Introducing ACCU911 Safe Zone
The ACCU911 Safe Zone is ideal for any size campus, whether indoors, outdoors or a combination. Make your institution safer with crowd sourcing. When people see the ACCU911 Safe Zone plaque, they know they can be assured they are safer with added location and awareness to 9-1-1 call centers at any time of need for safety and medical attention.